People Over Process – The Tech Brains Way
The success mantra of most established organizations has always been in the strategic planning and management of people, process, and technology.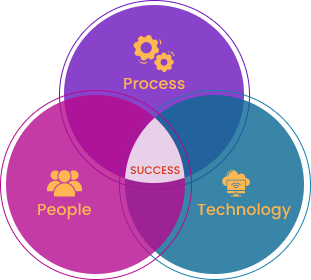 Today's agile work environment has enterprise leaders recognizing the significance of putting people over processes. Adaptation of any new advancement in technology or process can result in the desired outcomes only if people are aligned with the organization's objectives and imbibe the same vision and values.
At Tech Brains, we believe in driving employee engagement with both purpose and passion. Our policies are people-centric and we aim to create a healthy work culture, resulting in overall growth and efficiency of both the organization and its people. The Tech Brains Way
We'd like to share some of the best people practices we follow to attract new talent and encourage retention.
Clear alignment of individual's career goals with organizational objectives - Our leaders take a keen interest in their teams' career goals and find the best ways in tying them to organizational objectives. Taking the time to talk to team members and helping them get the big picture goes a long way. This means:

Transparency and a flat hierarchy – Each team member has a clear idea of the organization's challenges, problem statements, and long-term goals at any point of time. Frequent and transparent internal communication and an employee forum allow staff and leadership to be on the same page.

Reorient processes - Revisit and optimize processes with an open mind and reorient teams based on not only the organization needs but we also consider individual goals and interests. 360o feedback is encouraged on all aspects.

Audits - Do your employees feel a sense of belonging? How is the line manager relationship? How to increase employee motivation? What kind of incentive programs will be effective? HR audits hold the answer to most of these questions, and we take them very seriously.

Training – Periodic skill assessment, identifying needs and gaps, and addressing them through effective training progress is an integral part of TechBrains HR policies. Our training programs not only focus on acquisition of new skills but also in unearthing and tapping into unseen potential.
In conclusion, "People Over Process" essentially means that we value our people who ultimately understand and respond to our business needs and goals. This is not to undermine the need for processes, but to emphasize that we aim to create a healthy synergy between both.
So how do we fit in the third crucial element, technology in this game? That's another story. Stay tuned!
Contact information
220 Davidson Avenue, Suite 303, Somerset NJ 08873